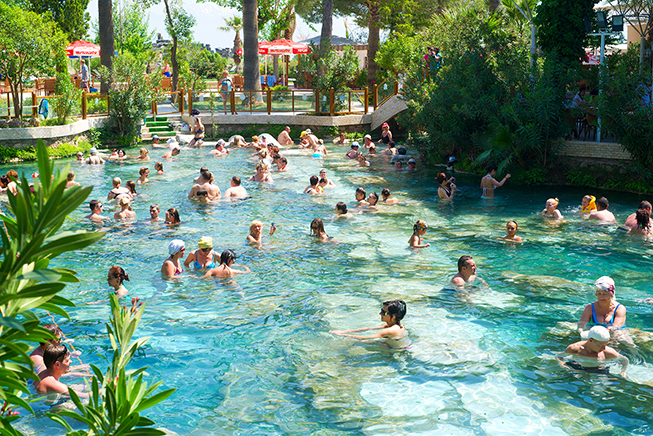 Tour Highlights
Explore the magnificent UNESCO World Heritage Site Pamukkale
Admire the antique city of Hierapolis' lime terraces and Roman bath
Visit the Cleopatra pool (a Roman bath)
Enjoy a day trip that combines nature and culture
Tour Itinerary
Pamukkale is famous with its white cascades of calcium springs. There are 17 hot water springs in Pamukkale. When the hot spring waters  come up to surface, they loose the carbon dioxide in the water and calcium bicarbonate subsides to shape the beautiful white cascades of Pamukkale. It is a worth to see natural site, an eye candy. You can  walk through Pamukkale and even find a chance to relax in the hot water of ancient pool.
Built just above the hot spring waters of Pamukkale, Hierapolis is a mighty ancient city and one of the UNESCO World Heritage Sites. Hierapolis built in 2.nd century BC by the King of Pergamon then became a Roman City. City was famous with several important sanctuaries and also it was an important trade center. Hierapolis was famous for purple die and cloth making as it is still famous with textile products.
Just out of the city, on the hills, you will find the the place where Saint Philip was martyred. It is still unknown if the Saint Philip here is Philip The Apostle or Philip the Evangelist but this crypt believed to have remain and it is a sacred place.
The city with its Pagan roots and Christian traditions, the remains of Hierapolis is quiet an interesting ancient site if you admire the historical sites and ancient ruins.
The Red Spring Water is a few kilometers from Pamukkale. The minerals in the water give the color of red, green or brown to the calcium terraces. It is another highlight of Pamukkale town not to miss.
Pamukkale Tour Program
09:30 Pick up from your hotel and full day Pamukkale Tour starts.
We will drive to Karahayit to see Red Spring Water.
We will visit Hierapolis and see Necropolis, Roman Baths, Domitian Gate, Latrina, Oil Factory, Frontinious Street, Agora, Byzantium Gate, Triton Fountain, Cathedral, Apollon Temple, Plutonium, Theater, Antique Pool.
Later we will take some photos from the nicest corners of Pamukkale.
Free time for 45 minutes. Then meeting with the guide, start walking through the travertines from up to down without shoes and socks. We will have lunch in a local restaurant.
16:00 Drive back to your hotel.