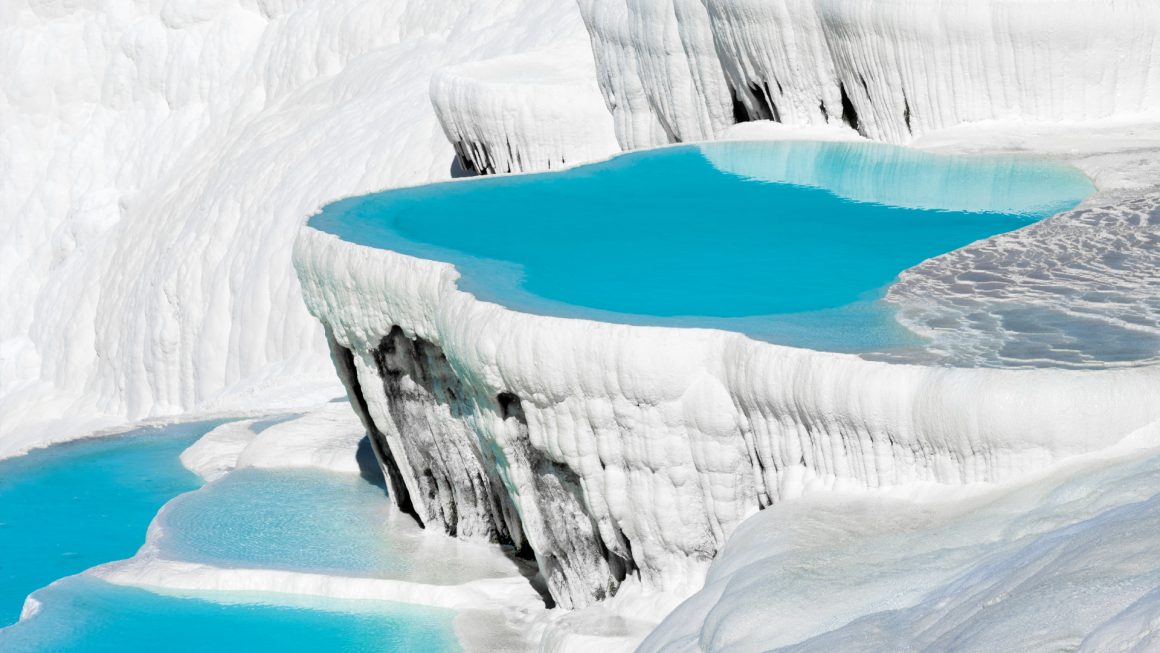 Tour Highlights
Stroll through the ruins of the ancient Greek city of Ephesus, past the amazingly intact façade of the Library of Celsus.
Relax and enjoy the blissful thermal pools Explore the site of the old Roman SPA town, Hierapolis.
Tour Itinerary
Day-1:
Overnight bus to Kuşadası

Transfer to Coach-station for your overnight-bus to Selçuk.

Day-2:
Ephesus Tour

Lunch Included

You will enter the ancient site at the Magnesia Gate and begin a slow walk downhill, being guided through the ruins of the Roman provincial capital. The tour makes its way past the amazing features of Ephesus including the Odem, the Celsius Library, the Temple of Hadrian, the Fountain of Trajan, and the Great Theatre. The theatre, which had seating for 25,000, is the site where St. Paul preached to the inhabitants of the city. The tour also includes the house of the Virgin Mary, a small house in the Solmissos Mountains recognized by the Vatican as her final resting place. Another attraction is the Temple of Artemis, known as one of the Seven Wonders of the Ancient World. Today the foundations of this marvelous construction from the Hellenistic Age remain. At the end of the tour, transfer to the hotel in Kusadası.

Day-3:
Pamukkale Tour - Overnight bus to Istanbul

Breakfast and Lunch Included

Pick up from the hotel to take a 3-4 hour journey to Pamukkale. You can see this phenomenal site well before you arrive in the village below. The water from these springs has a high mineral content (chalk, limestone, and travertine) that cascading down the mountain, giving rise to the complexion of the mountains; resembling a frozen waterfall. The water contains a large amount of hydrogen carbonate and calcium, which results in the precipitation of calcium bicarbonate. The combination of these elements attributes to the surreal landscape at Pamukkale as well as its place on the World Heritage list. Long before this listing, the Romans recognized the appeal of the area, building the spa city Hierapolis.
At the end of this tour, guests are transported to the bus station for an overnight journey to Istanbul or another destination.
What's included?
    Breakfast x 1
    Lunch x 2
    Air-conditioned vehicle
    Roundtrip Bus Ticket
    Full-day group tours with professional / licensed guides
    Hotel accommodation x 1
    Entrance fees to the various sites, admission, fuel surcharge, parking
    VAT
What's excluded?
    Drinks at lunchtime
    Dinner
    Hotels meals, or room services
    Cleopatra Swimming Pool in Pamukkale (10 € self-payment on entrance)
    Gratuities/TIP (optional)
    Anything else that is not specifically mentioned in the included section