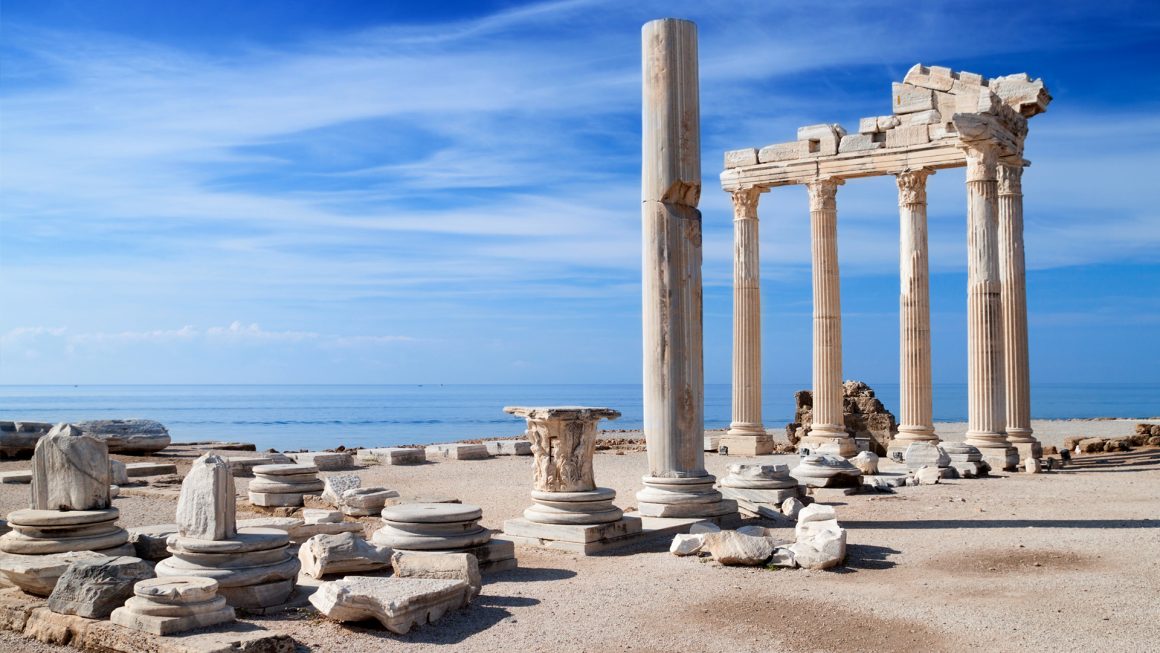 5 reasons everyone should visit Antalya at least once
– Eventful History
– Magnificent Beaches
– The Lycian Way
– Beautiful Natural Wonders
– Perfect Climate
Tour Itinerary
Take an excursion to some of the most important archaeological sights of Anatolia on an 8-hour tour from Antalya. You will visit 3 of the 4 great cities of the Hellenistic period, and cool down at the magnificent Kurşunlu Waterfall on one of the tributaries of the lovely Aksu River.
First, you will visit Perge, an ancient Greek city founded in the southwest of Anatolia, approximately 9 miles east of modern-day Antalya. During the Hellenistic period, Perge was the capital of Pamphylia and one of the 4 great cities that also included Aspendos, Side, and Sillion.
It was one of the richest and most beautiful cities in the ancient world, most famous for its temple dedicated to Artemis, the beautiful goddess of wilderness. Home to the renowned Greek mathematician Apollonius of Perge, according to legend, it was also the birthplace of beer.
For approximately 450 years, Perge was under the control of the Greeks until the Persians conquered it in 546 BC. 200 years later the armies of Alexander the Great entered Perge, ending the Persian reign. From that time, until the fall of the Roman Empire, Perge was under the patronage of the Romans. With its long history and its combination of 3 different cultures, the ruins are a delight to explore.
Continue to Aspendos, approximately 25 miles east of Antalya. Another of the great cities of Pamphylia, Aspendos was located on an important trade route. Alexander the Great's armies had the city in their sight, finally conquering it in 333 BC. Aspendos then fell under Roman patronage in 930 BC until the end of the Roman Empire.
The theatre, built between 161-180 AD during the reign of Marcus Aurelıus, is considered one of the world's best-preserved theaters from antiquity and is an immensely popular tourist attraction.
Continue to Side. The ancient Greek city's spectacular natural harbor setting made it one of the most important cities in Pamphylia, and one of the most significant centers for trade, especially of olive oil and slaves.
This also made it a target for many invaders and, after the Greeks, the Persians took Side under their wing, eventually giving in to the forces of Alexander the Great's armies in 333 BC. By the 4th-Century Side had begun to decline. Following non-stop invasions and a succession of natural disasters, the city was completely abandoned in the 10th-Century, leaving behind ruins that are considered among the most notable in Asia Minor.
Departing Side, you will make your way back to Antalya, about 45 miles west of the ruins. Arrive back in Antalya for a hotel drop-off at the end of the tour.
What's Included?
Hotel pick-up and drop-off
All Fees and Taxes
Professional art historian guide
Lunch
What's excluded?
Breakfast
Dinner
Drinks at lunchtime
Gratuities/TIP
Anything else that is not specifically mentioned in the included section