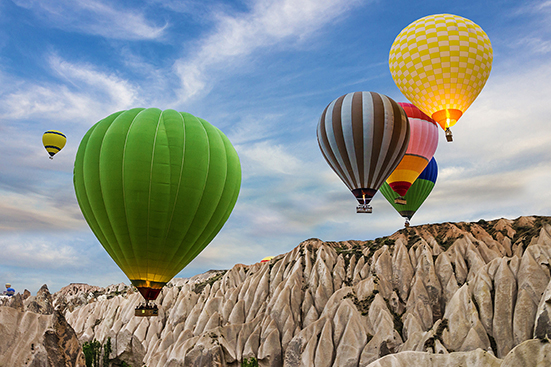 Tour Highlights
Once-in –a-life-experience!
Witness the beauty of Cappadocia from the skies.
Enjoy miles of panoramic vistas.
Get a close look at the stunning volcanic rock formations as you fly up 1,000 feet.
Tour Itinerary
Our sunrise flights are scheduled seven days a week, 365 days a year, weather permitting. We meet one hour prior to sunrise and then travel to one of our many launch sites.
The flight is approximately one hour and we will ascend anywhere from rock formations to several thousand feet. Once you're airborne your pilot will point out the spectacular sites of Cappadocia, from Red Valley to the Göreme and vineyards, to rock formations absolutely beauty of nature.
Once we have landed and the balloons are stored away we prepare for our Traditional Champagne Toast. Non-alcoholic beverages are also available. We will then transfer you to your hotels. Our passengers are then presented with a Flight of Ascension certificate by their pilot.